A
lan Byer Collision Center provides professional & reliable Car Accident Repair services. Not only will we restore your vehicle to pre-accident condition, but we'll do so in a timely, transparent manner. Our technicians are highly qualified and dedicated to providing a smooth, stress-free repair process, so you can get back on the road as soon as possible. If you were involved in a collision and need auto body repair, contact our team today.
What to Expect
In addition to fixing your vehicle, Alan Byer Collision Center can also help simplify the entire repair process. We'll work with your insurance company to file and process your claim and ensure you receive quality service at a competitive price. We can also supply you with a courtesy or rental vehicle while your car is in the shop. That way, you won't have to deal with the stress of getting to and from work and running errands without reliable transportation.
During every step of the Car Accident Repair, we'll keep you updated about your car's progress and always get your permission before ordering any parts or making any repairs. You can even monitor the repair process through frequent text, Facebook and/or email updates with real-time photos of your car.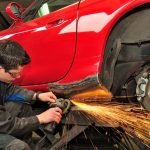 State-of-the-Art Facilities 
Alan Byer Collision Center is located in Fulton NY. Your safety is our top priority, and each center is equipped with advanced machinery and instruments to ensure fast, thorough results. As part of the Alan Byer difference, we have access to a complete range of specialized shop gear, including:
35-bay garage, with two estimating bays for fast service
Kansas Jack Magna frame racks for greater efficiency
Buske pulling systems
Kaeser compressors and drivers
Advanced compression welder
ADP, Mitchell and CCC estimating and management systems
And more…
Bring Your Vehicle to Alan Byer Collision
No matter what level of damage your vehicle sustains in an accident, bring it to the Alan Byer Collision Center nearest you for repairs. Our highly-trained technicians will get to work by first assessing the vehicle's condition and then providing you with an estimate of expected repair costs. If you have any questions or would like to make an appointment, contact us today.