repair process
Alan Byer Collision's expert staff will guide you step by step through the repair so we can get your vehicle back on the road as quickly as possible.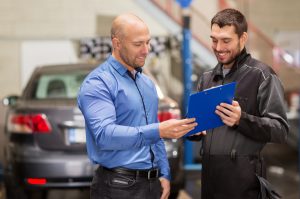 ESTIMATE
The repair process begins with you bringing your vehicle in for an estimate with one of our trained estimators. Your estimate will include a thorough inspection of the work to be done, a description of the repair parts to be used, what items your insurance will and will not cover and the expected amount of the repair.
TEARDOWN & PARTS ORDER
If your vehicle is drivable parts included on the initial estimate will be pre-ordered prior to the vehicle being dropped off for repair. This facilitates a faster repair and also reduces the cost of a rental vehicle. Once your parts arrive, you can drop off your vehicle and we can begin the disassembly process. If your vehicle is non- drivable the vehicle will be disassembled before parts will be ordered. At this point, if any additional parts or repairs are discovered as the vehicle is disassembled we will inform you to get approval before we move forward.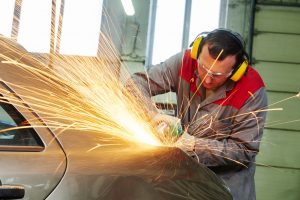 STRUCTURE & BODY REPAIR
If the severity and location of the collision damage indicate there is inner structural damage, damage to the unibody or "frame" of the vehicle, the vehicle will be mounted to a dedicated bench, or a universal frame rack. A computerized electronic measuring system will be utilized and the damage to your vehicle will be repaired returning specific measuring points back to the dimensions dictated by the vehicle manufacturer.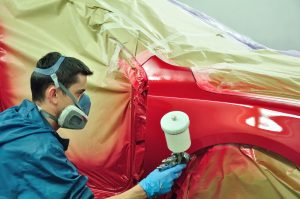 REFINISHING & PAINTING
All panels that need to be painted go through a series of steps to prepare them for the application of paint. Your vehicle will be spray painted and "baked 'in a downdraft paint booth providing you with a factory finish.
REASSEMBLY & QUALITY CONTROL
Once the vehicle is painted and the finish is baked dry the vehicle returns to the technician for reassembly of all the external trim pieces such as moldings, door handles, stripes, new glass etc. Each area that was repaired is checked to ensure that the repairs were done properly.